Taylor Allen | WHYY
Black women in the United States are three times more likely to die from complications in childbirth than white women.
It is estimated, however, that up to 60% of those complications — things like preeclampsia, fibroids, postpartum hemorrhage, and peripartum cardiomyopathy (a form of heart failure) — are preventable. Some frequently present either earlier in pregnancy for black women or present at a younger age than in women of other races.
Local workshops focused on birth trauma and birth-worker training address some black women's desires for alternative, and better, birth and postpartum experiences. One recent session drew more than 30 participants.
Saleemah McNeil, a reproductive psychotherapist and founder of Oshun Family Center in Jenkintown, hosts birth-trauma workshops for women of color to share their birth stories, to inform black women of their rights while in the hospital, and to stop the stigma around postpartum depression and psychosis.
Saleemah McNeil, founder of Oshun Family Center, hosts a birth trauma workshop for a small crowd in North Philadelphia on April 16, 2019. McNeil is a maternal psychotherapist and family counselor, and this is her second series of the workshop. (Rachel Wisniewski for WHYY)
"Being black is not a misnomer, being black is not a risk factor … societal and systemic racism is a risk factor."
According to McNeil, there is implicit bias in the health-care industry and providers don't listen to black women's pain. She founded Oshun Family Center after a traumatic experience in 2006 when she was delivering her son.
The pregnancy was smooth, McNeil said. Her problems didn't begin until she was in labor.
"I wasn't high risk," she said. "I didn't know being black was a risk, but it was."
She was diagnosed with preeclampsia, without knowing it, and sent to the hospital with a blood pressure of 202/153.
"I knew I was in a very dangerous range, and that I might die," McNeil said.
Nurses tried to get an IV started to get magnesium into her system to bring her blood pressure down, but it wouldn't take because she was swollen with fluid. McNeil said that she was eventually stabilized, but that she doesn't remember anything until it was time to push.
At that point, she said, she felt violated because "a doctor decided they were going to shove their hand in my vagina and then tell me that my son was sunny side up and that we're going to rotate my pelvis to help him get under it."
She had no clue what was happening, she said — she just knew it hurt, and that no one told her why it had to happen. Ultimately, she needed an emergency cesarean section.
"I remember being on the table and saying, 'Whatever you're doing, I feel that,'" McNeil said. "The doctors looked at each other and said, 'She only feels it on one side, should we start cutting on the other?' I said, 'Absolutely not, knock me out.' "
She blames her postpartum depression and not immediately feeling an attachment to her son on the traumatic experience of his birth. It ignited her drive for black maternal health. Over the last decade, she's been a lactation consultant, a marriage and family therapist, and a doula.
In her workshops in and around Philadelphia for women, particularly black women, McNeal seeks to educate them on the mental toll having a baby takes — during and after birth.
When the baby comes, it's typical for health-care providers and others to focus on the infant's health, and not necessarily the mother's. She wants to change that.
"Black women are dying during [birth], 12 weeks after, and one year after,"  said McNeil, who specializes in postpartum depression and psychosis. "Racism is killing our black bodies."
The mother is flooded with emotions during and immediately after birth, she said  At a recent workshop where she shared her own experience with anxiety after her son's birth, she said, "Black people aren't allowed to be depressed. As well-intentioned as my sister and my family were, they said, 'Suck it up. You got to get it together for that baby,' but I was suffering."
Making the transition to motherhood
Marqui Taylor (right) speaks about the racism she's experienced as a black doula at the "Let's Doula This" workshop she hosts at Franny Lou's Porch on April 14, 2019. (Rachel Wisniewski for WHYY)
Marqui Taylor of Philadelphia also went into doula work to help black women. Doulas primarily provide emotional support and encouragement before and during childbirth, as opposed to a midwife, who is a health-care professional.
But Taylor does postpartum work as well — which, for a doula, typically involves taking care of the child while the mother needs rest because she's overwhelmed with a newborn.
"Time and time again, women are forgotten about once the baby is born," Taylor said. "Hospitals can be baby-serviced only, and that can be a disservice to our lives."
Taylor leads Brown Birth, a collection of birth workers (doulas, midwives, and lactation counselors) and family/reproductive advocates that strives to create a supportive community for expecting mothers, children, and families.
Marqui Taylor (center), founder of Birth Brown, hosts a "Let's Doula This" workshop at Franny Lou's Porch on April 14, 2019. Five doulas and aspiring doulas attended the workshop, at which the struggles of being a black women in the profession were discussed. (Rachel Wisniewski for WHYY)
Ideally, Taylor said, she would prefer to have a postpartum client for about a year because the family's needs will change as the child develops from the early stages of infancy. Realistically though, she keeps most of her clients for about six months, with self-sufficiency the goal.
At Oshun Family Center, McNeil, too, provides therapy to families adjusting to parenthood. She encourages women to talk about their feelings and to feel safe with her without worry about admitting that they are struggling. If they admit that, many black mothers fear, the Department of Human Services will take away their children.
"Most thoughts really are just thoughts," McNeil said. "However, I still want to know about them, and let's work through it."
At a recent workshop, she spoke at length about psychosis, saying it takes over the mind and body and can create hallucinations and delusions. If left untreated, it can lead to mothers being a hazard to both themselves and their families. In the most extreme cases, mothers can end up killing their children.
Sheena Hamby, McNeil's partner at Oshun Family Center, shared her own experience with psychosis.
"I went to several doctors about how I was feeling, and they all told me I would be fine," Hamby said. "I never got help. I left my son at a pier and had to rely on my daughter to help me find him."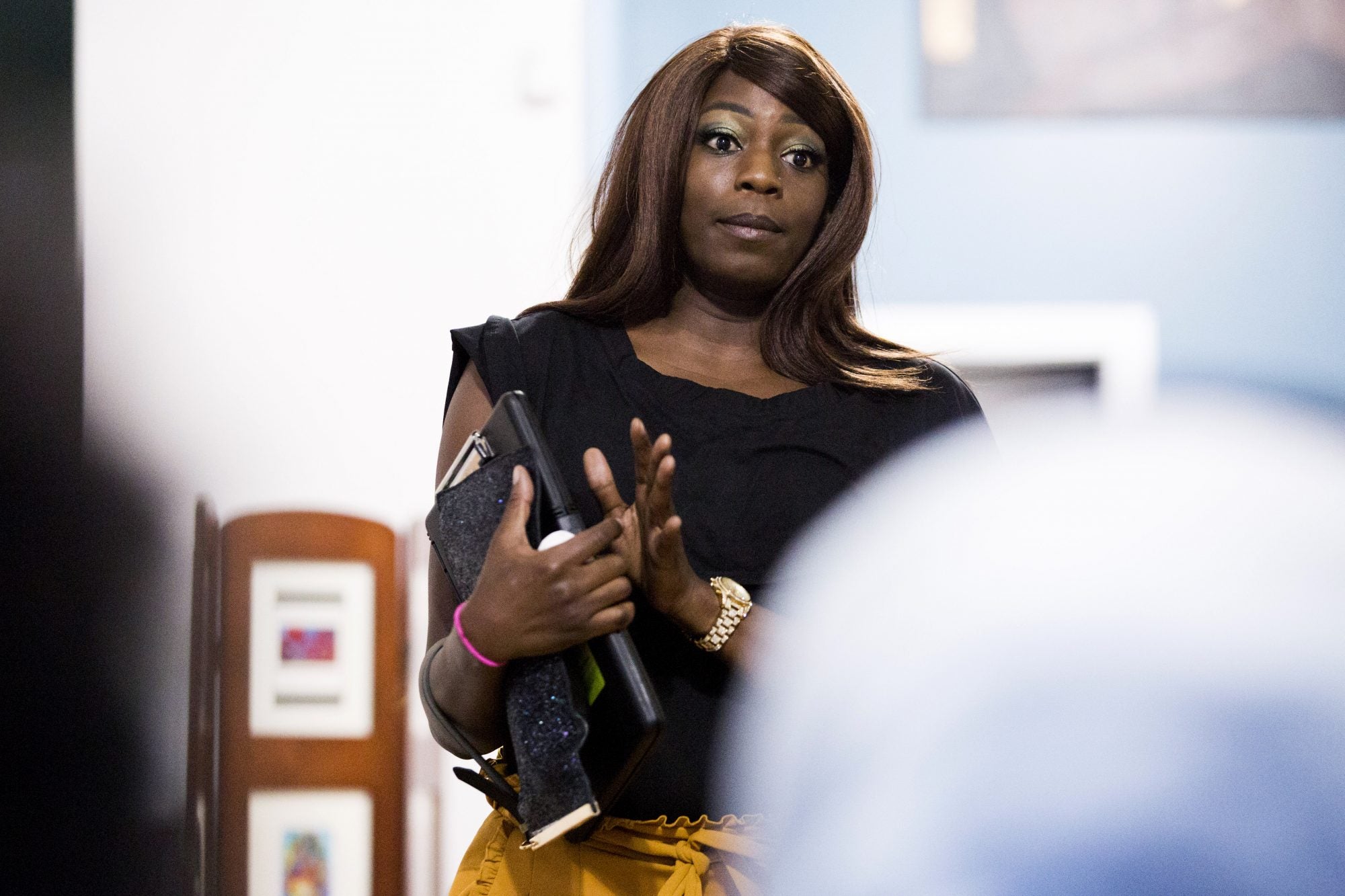 Afterward, Hamby's two children stayed with her mother while she got treatment for her psychosis.
"My daughter was scared of me, and I hated it," Hamby said. "I found a letter she wrote to me but never gave because she was scared, and she wrote, 'There's a monster in my mom.' "
The aim of their workshops, Hamby and McNeil said, is for mothers to feel comfortable sharing their stories and to get rid of the stigma that mothers can't be sick.
When doulas step in
In Philadelphia, there is a rising black birth-worker community, with training, workshops, and other information popping up all over the city.
Taylor recently hosted her second informational session, called "Let's Doula This," in which she discussed what it takes to become one and describes the life of a working doula. About a half-dozen women attended.
If you want to work as a doula, certification through DONA International is recognized across the U.S. The DONA program is primarily self-study, plus attendance at a workshop, childbirth education, and breastfeeding education. Aspiring doulas need documentation of birth doula support, record sheets and two evaluations for each birth: one from a client and one from an attending birth professional (a physician, midwife or nurse).
Although it is not required, Taylor said, some knowledge of clinical work can be beneficial for doulas — not to diagnose anyone, but to recognize the signs of potentially dangerous pregnancy-related conditions such as preeclampsia, so they can notify a health-care professional.
Juanita Abdul-Aliy has been working as a doula for the past two years and has just moved to Philadelphia, in part to be around and support more black women.
When she got her certification, she said, she was excited to dive into her calling but had a rough beginning as one of the few black birth workers in a small upstate New York town.
"They don't want anyone of color there," Abdul-Aliy said. "It's very close-knit. No one was like, 'Hey, come in and train with us.' I remember asking for doula trainings and never getting a call back."
That experience is so typical that part of Taylor's doula workshop consists of telling aspiring black doulas what to expect when they are out in the field. She lets them know they have a different experience working than their white counterparts.
Although Taylor went into birth work to specifically help black women, a lot of her clients weren't. She told a story about how she was sent to a family for postpartum work overnight. This particular family was wealthy and white, as are most of her clients who can afford a postpartum doula. After discovering Taylor was black, they said they didn't need her for the night.
"People are funny with their kids," Taylor said. "And that's when their biases come out."
It's normal for her to be the only black birth worker that a center offers. Usually, Taylor said, she gets work from companies, often as an independent contractor, because they want to expand their clientele and think that a black doula will help fulfill that quota.
Currently, Taylor is in school to become a certified professional midwife at the Midwives College of Utah.
"It's my goal to do home-birth midwiferies and join the ranks of black women in home birth," she said. "In midwifery school, it's not inviting to women of color. It's always a fight. So more soldiers on the front, the better."